Claddagh Basket Silver Pendant with earrings
The iconic Claddagh, Ireland's much loved emblem of love, is fashioned into a silver basket which surrounds a polished stone of ancient Connemara Marble, carved perfectly into a classic teardrop shaped pendant and earrings to match.
Whether you wear the pendant and earrings as a set or each independantly this is a special piece that can complete any outfit.
Read the full story of the Claddagh below.
"Do you have a question about this product?"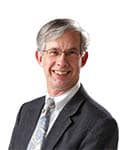 Description
Give an Irish gift to remember with this gorgeous Claddagh pendant and earrings set. Handcrafted in our workshop in Rathfarnham County Dublin. This Connemara marble, one of the world's oldest minerals and rarest marble in the world, was mined from our quarry in Lissoughter, Recess Co. Galway. No two pieces are identical, making each piece totally unique to you. Our Sterling Silver is hallmarked at the Dublin Assay office which is located in Dublin Castle.
The symbol for love, loyalty and friendship are represented in the heart, the crown, and the hands of this set. The Claddagh ring was the first piece of jewelry made with this message and so the symbol was then used to inspire other pieces of jewelry.
The story of how the Claddagh ring was created goes as follows :
It is said that Richard Joyce created the first Claddagh ring in the late 1600's .Joyce was a fisherman from the village of Claddagh. Whilst fishing off the cost of Galway he was captured by Algerian pirates.
After being captured he was sold on as a slave to a Moorish goldsmith. The goldsmith needed an apprentice. Noticing Joyce's talent, he taught him the trade.
Whilst in captivity he designed the Claddagh ring for his fiancée, in the hope that someday he would be released.
In 1689, Joyce was released when William III sent an ambassador to Algeria to demand the release of the captured slaves. Upon hearing this, his captor offered Joyce half of his wealth and his only daughter in marriage to remain in Algeria.
Joyce declined the offer because he was so eager to return to his native Galway. Returning to Galway, Joyce found that his fiancée was waiting for him. He presented her with the Claddagh ring- a symbol of love, loyalty and friendship, and they were married soon after.
He was quick to establish himself as a goldsmith in Galway and went on to produce copies of the ring ; and examples of his work can be seen in the national museum, Dublin.
The pendant has a drop length of 3 cm and a width of 2cm. It weighs 7.2 grams and is presented on an 18″ chain. Each earring hangs from a Shepherd's hook and has a drop of 20 mm with a width of 15mm. The weight of the earrings is 5.9grams.
With this collection you shall receive a certificate of authentication which certifies that the marble is genuine Connemara Marble.
You may also like our Marble Heart Claddagh ring
Additional information
| | |
| --- | --- |
| Material | Connemara Marble |
| Metal | Sterling Silver |
| Size | 20mm x 15mm earrings, 3cm x 2cm pendant |
| Stamp | Irish Assay Office |
| Style | Claddagh |
Additional information
| | |
| --- | --- |
| Material | Connemara Marble |
| Metal | Sterling Silver |
| Size | 20mm x 15mm earrings, 3cm x 2cm pendant |
| Stamp | Irish Assay Office |
| Style | Claddagh |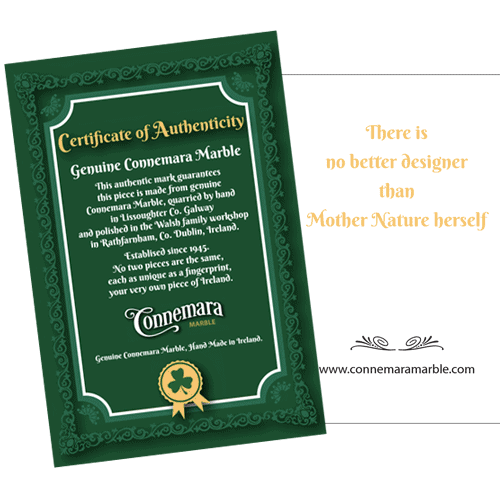 Each marble product purchase includes a Certificate of Authenticity to prove it was made with genuine Connemara Marble.